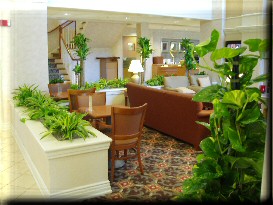 The plants we recommend are specifically chosen to meet your environment's existing light and design parameters. We supply only the highest quality plant material, individually chosen and acclimated to assure longevity.
Every plant we care for is guaranteed to look its best, or it is promptly replaced at no cost to you.
Our RENTAL program provides you with all of the plants and accessories as well as our maintenance with replacement guarantee - all provided without start up costs to you.
Our SALES program allows you to purchase the plants and containers and gives you the option to use our plant maintenance service.
Our BLOOMING plant and bromeliad rotations add freshness and color to your office and atrium areas.
Our MAINTENANCE SERVICE provides the professional care needed to keep your plants looking vibrant and healthy. FPI's uniformed horticulture technicians service the plants on a regular schedule to maintain healthy and attractive foliage, with minimal interruption to your work force. We check in with you at each visit as part of our customer service commitment.
Fancy Plants is dedicated to exceeding our client's expectations for quality service.